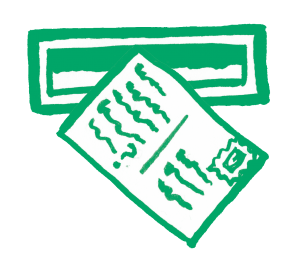 To celebrate the centenary of Murdoch  An Post issued a beautiful commemorative stamp on 15th July 2019.
To celebrate Murdoch's philosophy, literature, and love of letter-writing An Post and In Parenthesis are holding an international #SlowPhilosophy exchange: #PhilosophybyPostcard.
Between July and September 2019 you were invited to send a postcard to Iris Murdoch at Blessington Street, Dublin. 100 of the postcards we received were selected and sent on to 100 waiting philosophers from around the globe. They will receive a reply from a philosopher, written on a specially commissioned artist-designed postcard complete with a commemorative Murdoch stamp.
Philosophy by Postcard was inspired by the postcard exchange between Elizabeth Anscombe and Sir Anthony Kenny, held in The Collegium Institute Anscombe Archive at University of Pennsylvania. You can read more about it here.
What would you write to a philosopher? What would you ask Iris Murdoch? What questions, queries, dilemmas or philosophical conundrums can you fit onto a postcard?