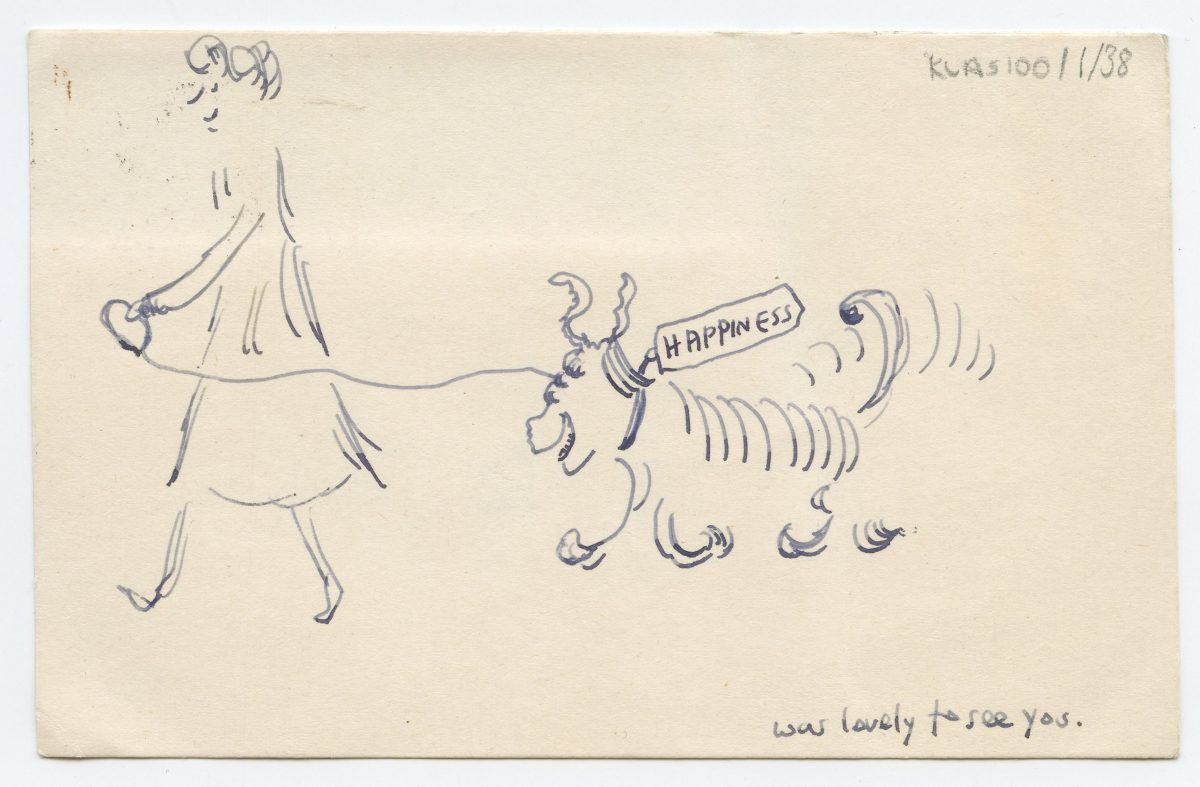 About the postcard
Title: Dog of Happiness
Medium: Ink sketch on postcard
Hand drawn by Iris Murdoch
Size: 15 x 10cm
Year: c1959
From the Iris Murdoch Collections at Kingston University Archives
Catalogue Number KUAS100/1/38
Statement
Iris sent this postcard to her friend Philippa Foot in 1959 or 1960. The pair's close friendship had been tested when Philippa married M. R. D. Foot in 1945. He had previously been in a relationship with Iris that had ended badly. Though they remained friends, Philippa's marriage created distance between them. When the marriage ended in 1959, Iris sent Philippa a letter of comfort and the two met up and rekindled their friendship. The 'Dog of Happiness' communicates Iris' joy as the change in this change of circumstance, a joy reflected in journal entries from this time.
April 1959 - I have thought a lot about Philippa. How strong the old structure is of my love for her. In some way the parting of these two [Philippa and Michael] re-opens my own past. It is as if they, together, closed a door for me, ended a certain piece of my history, & closed the book. Now that they are parting that force is no longer exerted.  (p.42)
May 1959 -  I shall see Philippa today week. She wrote to me two remarkable letters, which I can't quote now (they are in Oxford & I write at SA) to say: she cd not think of seeing me without being frank, that to 'find' me again meant very much to her (these are not exactly her words.) She spoke here very directly to my heart. I replied that I had not hoped to speak frankly to her again, & I was filled with joy at the prospect. 14 years since I talked openly with P.  (p.43)
May 1959 - I was much moved (oh heavens, this understates it) by meeting her today. We talked (& must talk more) about a past which I had thought I would have forever to deal with alone.  (p.46)
Sources
Murdoch's journals and the original 'Dog of Happiness' drawing are from the Iris Murdoch Collections at Kingston University Archives. Special thanks to archivist Dayna Miller for help putting together the statement above.
---
Image courtesy of :
Iris Murdoch Collections at Kingston University Archives