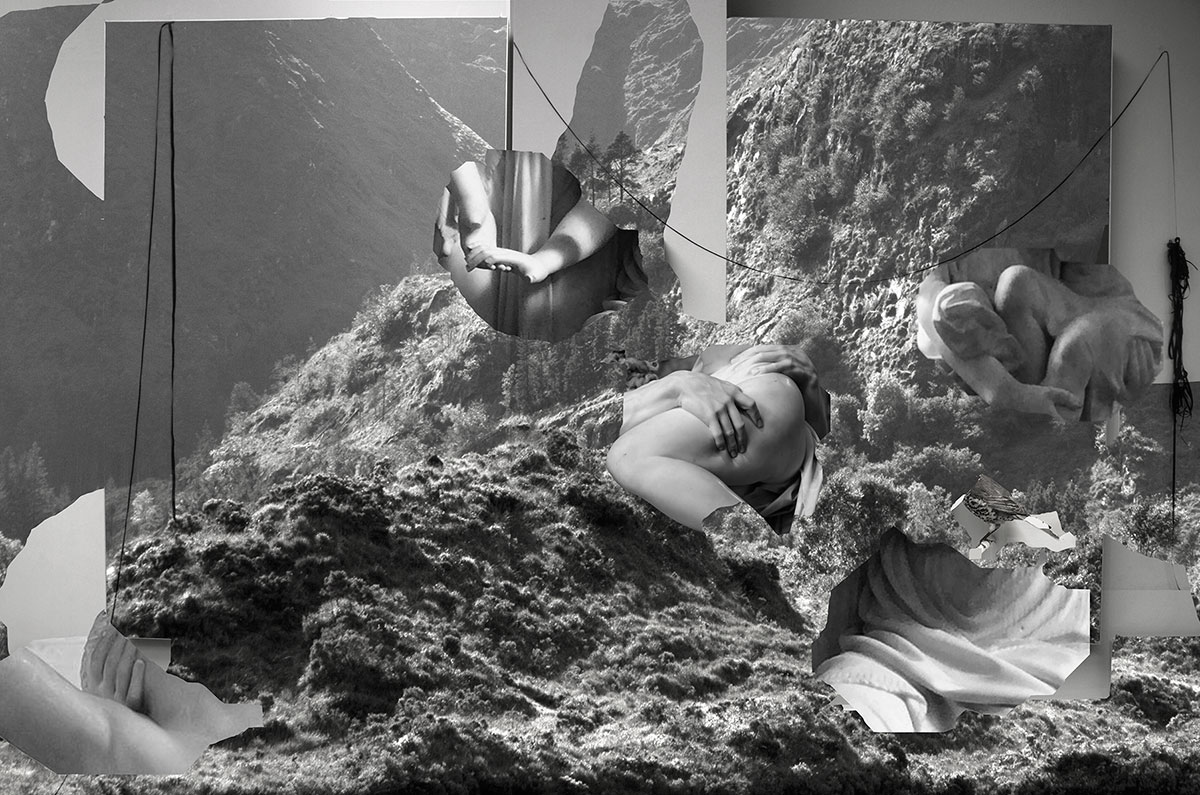 About the postcard
The piece is a response to Iris Murdoch's essay 'The Sublime and the Good'.
In this brisk and dogmatic text, Murdoch works (and sometimes cuts) through Tolstoy, Kant and Hegel, to tackle definitions of art, morality and the sublime. What struck me most in this writing was the way it so deftly presents and collapses ideals; and so, sidestepping the dilemma of how to live up to such writing, I set about staging an image from these collapsed ideals. In the mix is a romantic landscape, an indistinct background strung with artfully aimless lines and a series of classical depictions of love and morality. All link to impressions (loosely) gathered from the essay, and reference the dismantled visions of her predecessors alongside Murdoch's own arrived-at ideal (love) and its adversary (fantasy). 
While fragmenting and reconfiguring some of these archetypal images, which include a detail of Bernini's 'Pluto and Proserpina' in reference to Murdoch's description of fantasy, I found myself brought back to her 1986 novel The Sea, The Sea – remembering its sublime backdrop, its character's (deluded) fixation on goodness and love, its surreal intervals and strange abduction narrative. Though I read this book many years ago, finding this accidental echo of its elements made me happy – the connections between Murdoch's philosophy and novel perhaps reinforcing my instinct that misrecognition and failed ideals can make good starting points for art.
About the artist
Ailbhe Ní Bhriain is an Irish artist known for her use of film, computer generated imagery and photography. Her work is exhibited widely nationally and internationally with exhibtions at RHA, Dublin; Broad Museum, Michigan; Domobaal Gallery, London; Paris Photo; Reina Sofia Museum Museum, Madrid; Caixa Forum, Barcelona; Centre of Contemporary Art, Thessaloniki; and Centrale, Brussels among others. Her work increasingly involves collaboration with musicians and composers, with installations incorporating recorded sound, live performance and improvisation.
Recent commissions include Inscriptions (One Here Now) with composer Susan Stenger, curated by Miranda Driscoll as part of The Brian O'Doherty/Patrick Ireland Project, Sirius Arts Centre, Cobh (2019) and Passages, with composers Linda Buckley & Irene Buckley, curated by Mary Hickson and Bryce Dessner as part of Sound from a Safe Harbour Festival (2015). Ailbhe Ní Bhriain is represented by Domobaal Gallery, London.
---
Postcard sponsor:
British Society for History of Philosophy